Im not sure about anyone else but I was so excited I forgot to write anything about this when it happened. Mark Webber Aus F1 "superstar" lost the world championship because he choked in the last race. We all know he choked because his teammate in a identical car managed to take victory on the horribly boring course.
Webber has a history of choking/driver error/whinging like a bitch.
If you cant tell i do not like this dude. I gave him a chance for a few years but it ended in 2006 when he
retired 11 times in 18 races
. Constantly blaming his car
you will say "hey even monkeys fall out of tree's" but monkeys dont race in F1 nor should they.
I was hoping he would not win, because the sheer amount of ass kissing i would have to see in the paper on the net, Even before the last race their was "the road to victory" or some crap. That was nearly as bad as stkilda's movie "the streak" where they won a few games in the row but didnt win the premiership IDIOTS.
If anyone follows motorsport is australia they will know this guy
]
possibly the worst person ever to race in aus touring cars. He and mark webber are best friends hence they are both jokes.
So here are some of my favourite pictures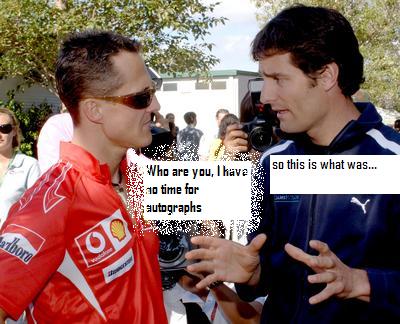 dont worry if you think their is no hope because their is...Daniel Ricciardo is a new aussy currently testing in F1. And has done quite well so far. Hopefully next year he will be in to cover someones shift.
too finnish
awesome
not awesome

_________________
It's hard to be humble, when you're as great as I am.
Muhammad Ali

http://www.youtube.com/watch?v=SSr7VaTSgNU

NFL Greatness
http://www.youtube.com/watch?v=x5xYeqH200Q&feature=related


http://nooooooooooooooo.com/